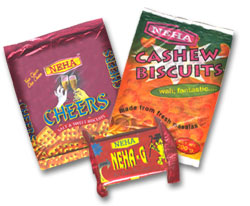 Since the foundation of The Tulsyan Group of Industries, we have become one of the leading manufacturers of biscuits in Eastern India within a very short span of time. Our brand "NEHA" is now a household name to reckon with. Not only that, our widespread distribution network has also made inroads in the Northern parts of India. To further consolidate our position, we are significantly enhancing our dealership network.
Our key objective is to make the finest quality biscuits available to the consumers. It has been our endeavour to constantly innovate while maintaining the taste and flavors that is uniquely "NEHA".

So whether its developing new processes, improving systems or raising quality standards, we have made concerted efforts towards achieving the same, while taking utmost care of hygiene.

"NEHA" was conceived to satisfy the discerning palate while offering good nutritional value. We have done so by adapting to it the latest technologies. Fully automated ovens bake the biscuits round the clock as they find their way into automatic packing units at the company's plant at Narendrapur, Kolkata to cater to the ever growing demand of "NEHA" biscuits.

With our unwavering commitment towards quality, nutrition and hygiene, we have tried to ensure that "NEHA" always strives hard to satisfy our esteemed consumers. This compile is an effort to showcase the most cherished products that we have in our "TULSYAN" portfolio.

Our efforts to maintain your good health.
To know more about these and a host of other exciting opportunities, get in touch with:


Tulsyan Group of Industries,
5A, Robinson Street.
Kolkata - 700017.(India)
Telephone : +91-33-22875252-55
Facsimile : +91-33-22872208, 22871003
E-Mail : tulsyanindia@tulsyanindia.com